Cotton Belt Route Excursion 2020 (Grapevine to Historic Stockyards)
Multiple Dates & Times
Event Description
Step back in time with a nostalgic ride on the Grapevine Vintage Railroad! The railroad is serviced by two Victorian-style locomotives, including "Puffy" the 1896 steam locomotive, the oldest continuously operating steam engine in the South, and "Vinny," a 1953 GP-7 diesel locomotive. Most weekends throughout the year, The Grapevine Vintage Railroad travels along the historic Cotton Belt Route between Grapevine and the Fort Worth Stockyards. While enjoying the leisurely 21-mile trip, experience the all new Great Train Heist! Keep an eye out for those greedy outlaws onboard. Join in on the fun, and help railroad detectives solve the mystery of who robbed the Grapevine Vintage Railroad.
**Face masks are required to ride the Grapevine Vintage Railroad**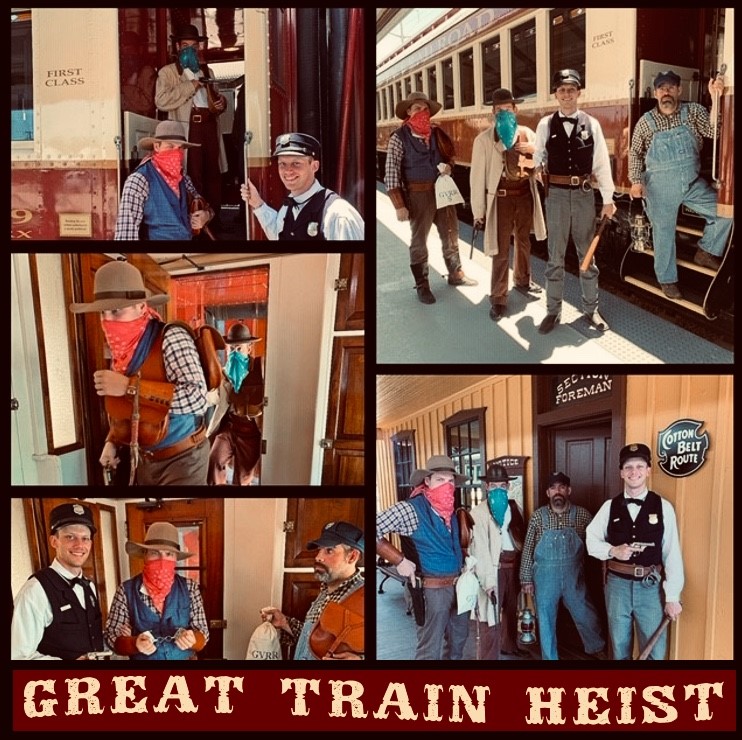 CURRENT SCHEDULE
Saturday, September 26
Saturday, October 3
Saturday, October 10
Saturday, October 17
Saturday, October 24
Sunday, November 1
Saturday, November 7
Saturday, November 14
Saturday, November 21
GRAPEVINE TO FORT WORTH STOCKYARDS
Check-in at Grapevine: 12:20 pm
Train Doors Close: 12:45 pm
Depart Grapevine: 12:50 pm
Arrive in Stockyards: approx. 2:30 pm
Check-in at Stockyards: 4:05 pm
Depart the Stockyards: 4:15 pm
Arrive in Grapevine: approx. 5:45 pm
Pricing:
First Class: $26.00
(Coaches are heated and air-conditioned with Victorian upholstered seats.)
Touring Class: $22.00
(Coaches have floor-to-ceiling windows with padded bench-style seats and are climate controlled for year round comfort.)
Economy Class: $18.00
(Coaches are open air in the warmer months and enclosed and heated during the colder months with wooden bench-style seats and floor-to-ceiling views.) - NO AIR-CONDITIONING - This coach has been enclosed for the colder months.
Passengers 13 months and older must purchase a ticket.
Please note that coaches and seats are assigned at check-in. If you have a group (with separate reservations) that wishes to be seated together, please check-in together.
For more than 12 seats call 817.410.3579 for group pricing.
Same day ticket sales are subject to walk up availability. Tickets are non-refundable.
The Grapevine Vintage Railroad makes every attempt to adhere to the posted schedules. However, GVRR cannot guarantee arrival times due to sharing rails with TEXRail, Freight Trains and Amtrak. Delays or cancellations may also occur due to emergency track maintenance. In rare cases delays can be an hour or longer.
For more information, please call the Visitor Information Center at 817.410.3185, email [email protected] or visit GVRR.com.