Carpenters Legacy: A Christmas Portrait
Fri. Dec 16, 2022 at 7:30pm CST
Get Tickets
Details
Comments
Event Description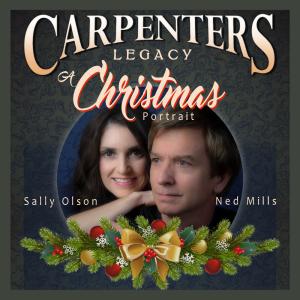 Carpenters Legacy: A Christmas Portrait
Presented by Tribute Masters

Thursday, December 15 at 7:30 p.m. SOLD OUT
Friday, December 16 at 3 p.m. & 7:30 p.m. SOLD OUT
All Reserved Seating
Tickets: $38

Show is 90 Minutes.
If you have a guest that needs to stay in their wheelchair. Please call Grapevine Ticketline at 817.410.3100 for assistance.

Direct from Las Vegas, Carpenters Legacy: A Christmas Portrait, starring Sally Olson as Karen Carpenter and Ned Mills as Richard Carpenter, takes the audience back in time to an old-fashioned Christmas. The show recreates the nostalgia of the Carpenters' 1977 and 1978 Christmas TV specials, in addition to the endearing humor that will make you feel like a kid again! The show features holiday classics Merry Christmas, Darling; Sleigh Ride; and The Christmas Song as well as many of the Carpenters' greatest hits.

​Randy Schmidt, author of Little Girl Blue: The Life of Karen Carpenter, says "Sally's tribute to Karen Carpenter is heartfelt and honest," and John Katsilometes of Las Vegas Review-Journal has lauded the show as "musically sound, vocally spot-on, and will please any fans of the duo." Sam Novak of Vegas Unfiltered says, "Sally Olson and Ned Mills perfectly embody Karen and Richard Carpenter. Carpenters Legacy is nothing short of astounding." David Halston of Tribute Masters says, "Sally is remarkable, spot-on and delightfully entertaining." Sally is truly unsurpassed in her startling representation of Karen Carpenter, including authentic hairstyles and makeup, vintage costumes, gestures and stunning voice.

​Carpenters Legacy completed their first Las Vegas residency in Town Square on Las Vegas Boulevard in spring of 2021. Carpenters Legacy was featured at the Carpenters 50th Anniversary Celebration. Olson is the first-ever and only Karen Carpenter tribute artist to perform with the world-renowned Las Vegas based review Legends In Concert. Carpenters Legacy: A Christmas Portrait features historical commentary and lovely arrangements and video, taking audiences on an incredible journey down memory lane into the world of the Carpenters - the world's ONLY authentic Carpenters tribute in sight and sound.



Call Grapevine Ticketline for group sales.
A $2 service fee is charged per ticket.
All ticket sales are final. No refunds or exchanges.